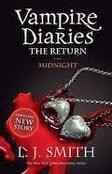 The Vampire Diaries: The Return (Midnight) EN
The Vampire Diaries: The Return (Midnight) EN
Na túto knižku aktuálne nikto nečaká, máš záujem ty?
Aktuálne túto knihu ponúka 1 čitateľ
Popis knihy
The vampire love triangle that spawned hundreds of thousands of fans-and inspired a major new dramatisation shown on ITV -concludes in this powerful final volume of The Vampire Diaries. In Midnight, golden girl Elena Gilbert is back from the Dark Dimension, having successfully freed her vampire boyfriend Stefan Salvatore from imprisonment. Saving Stefan had an unlikely consequence: his vampire brother Damon Salvatore has become a mortal. While the trio reels from this latest twist, they must still deal with the demons that have taken over Elena's hometown, Fell's Church. As in every L.J. Smith novel, no matter how dark the night, there is always a happy ending. MIDNIGHT takes Elena, Stefan, and Damon to their darkest moments yet...Danger, romance, and paranormal mystery will keep readers fascinated with this captivating finale to the New York Times bestselling series.
Našli ste chybu?