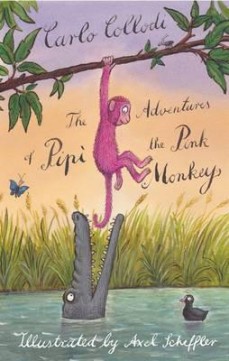 The Adventures of Pipì the Pink Monkey EN
The Adventures of Pipì the Pink Monkey EN
Na túto knižku aktuálne nikto nečaká, máš záujem ty?
Aktuálne nikto neponúka túto knihu.
Popis knihy
Pipì isn't like his four brothers or the other young monkeys living in the forest of Hullabaloo: he has bright-pink fur, a mischievous character and a rebellious streak that lands him into all sorts of scrapes. In this story, an expanded version of Collodi's original tale, we see him lose his tail to an ancient crocodile, end up as a valet to a young master, fall into the hands of flying bandits and become emperor of a tribe of apes. Collodi wrote this story immediately after Pinocchio, and the little monkey's adventures present clear similarities, both in terms of themes and characters, with his more celebrated masterpiece. This rediscovered gem of Italian literature, beautifully illustrated by Axel Scheffler and preserving all of Collodi's trademark wit and linguistic crispness, will delight and enthral a new generation of children.
Našli ste chybu?