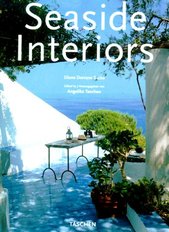 Na túto knižku aktuálne nikto nečaká, máš záujem ty?
Aktuálne nikto neponúka túto knihu.
Popis knihy
   Bývanie na pláži. Fantastické domy na morskom pobreží... At home in Ibiza, South Africa, Miami and Sri Lanka Who has never dreamt of living at the sea: the roar of the waves, the fresh salty breeze, the endless beach... This addition to the Interiors series shows more than 40 houses around the world with which creative people have realised that dream. Our journey through five continents takes us to a rustic fisherman's house on Gotland in Sweden, to Wolfgang Joop's elegant apartment in Monte Carlo, and to a film producer's summer house high up on a tiny volcanic island in the Mediterranean to list a few. You will visit a sizeable villa on the Seychelles and an artist's cottage located idyllically on the coast of Maine, and lovingly decorated with flotsam and jetsam from the beach. An architect seeks his relaxation in a domicile he designed himself with a wonderful view of the Mexican Costa Careyes, while an interior designer takes flight at weekends to his imaginatively colourful beach hut on the Punta del Este in Uruguay. On Tahiti a marine biologist has created his own Robinson Crusoe idyll. Allow yourself be spirited away to the world's most beautiful beaches.
Našli ste chybu?