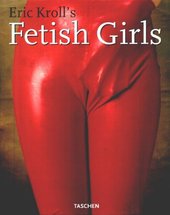 Eric Kroll's Fetish Girls EN
Eric Kroll's Fetish Girls EN
Na túto knižku aktuálne nikto nečaká, máš záujem ty?
Aktuálne nikto neponúka túto knihu.
Popis knihy
   Nové vydanie kultovej knihy Erica Krolla, ktorá prvý krát vyšla v roku 1994... "Fetish Girls came out in 1994 and I immediately moved with my family from New York City to San Francisco. I wanted a different light to shoot by. I went from a studio to shooting in a classic Victorian mansion. I'm still a fetishist. I live with my muse, Gwen, and my children. I made about a dozen more videos and two books of photo sexual narratives involving Gwen entitled The Transformations of Gwen Volumes 1 and 2 (NBM Publishing). I am more interested in capturing intimate sexual 'play' than before. The players have to be in heels, hose must be within frame, rubber nearby, with a hint of leather. It is the game of pleasure that I seek on film. Don't come naked to me. Come with attitude and kneel or stand above me. My audience is particular, born as it were, from Fetish Girls." —Eric Kroll Eric Kroll graduated from the University of Colorado in cultural anthropology in 1969. He has been married once, and over the past thirty-six years has lived with his wife and five other women at different stages of his life. For years he was a photojournalist working for the New York Times, Vogue, Der Spiegel and other publications. His first book, Sex Objects, was published in 1977. Seventeen years later, TASCHEN published his Fetish Girls, followed in 1997 by Beauty Parade. For the same publisher he has edited John Willie's Bizarre, The Art of Eric Stanton, and Elmer Batters, and in 1999 he worked with Natacha Merritt on her book Digital Diaries. Since 1995, he has created and maintained an elaborate website, fetish-usa.com, which contains over 4,000 Kroll images.
Našli ste chybu?