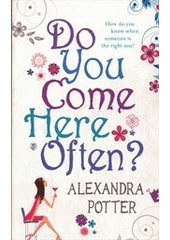 Do You Come Here Often? EN
Do You Come Here Often? EN
Na túto knižku aktuálne nikto nečaká, máš záujem ty?
Aktuálne nikto neponúka túto knihu.
Popis knihy
Potter follows her debut, Calling Romeo, with an even more charming tale. Grace Fairley and Jimi Malik hated each other in high school until they spent a day together after graduation and ended up sleeping together. Thirteen years later, both Grace and Jimi are engaged to other people. Grace and Spencer, a divorce lawyer, have been engaged for two years and still haven't set a date, while Jimi has fallen hard for a pretty model, Kylie, and, to his friends' surprise, has decided to take the plunge. Grace runs into Jimi on the night of her thirty-first birthday and his bachelor party, and he gives her a lift home after she fights with Spencer. Then, after Grace gives Spencer an ultimatum about the wedding and Jimi is jilted by his young bride to be, Grace and Jimi begin to question their present relationships—and their feelings for each other. A delightful and winning romantic comedy.
Našli ste chybu?