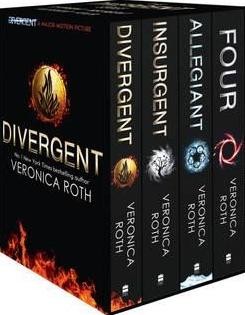 Na túto knihu čaká momentálne 1 čitateľ
Aktuálne nikto neponúka túto knihu.
Popis knihy
No. 1 New York Times bestsellers Divergent, Insurgent and Allegiant and Four in collector's set. Divergent: In the world of Divergent, society is divided into five factions and all are forced to choose where they belong. The choice Beatrice Prior makes shocks everyone, including herself. Once decisions are made faction members are forced to undergo extreme initiation tests with devastating consequences. Tris must determine who her friends are – and whether the man who both threatens and protects her is really on her side. Because Tris has a deadly secret. As growing conflict threatens to unravel their seemingly perfect society, this secret might save those Tris loves or it might destroy her.Insurgent: One choice can transform you – or it can destroy you. Tris Prior's initiation day should have been marked by celebrations; instead it ended with unspeakable horrors. Now unrest surges in the factions around her as conflict between their ideologies grows. In times of war sides must be chosen and secrets will emerge. Tris has already paid a terrible price for survival and is wracked by haunting guilt. But radical new discoveries and shifting relationships mean that she must fully embrace her Divergence – even though she stands to lose everything.Allegiant: The faction-based society that Tris once believed in is shattered – fractured by violence and power struggles and scarred by loss and betrayal. So when offered a chance to explore the world past the limits she's known, Tris is ready. Perhaps beyond the fence, she will find a simple new life, free from complicated lies, tangled loyalties and painful memories. But Tris's new reality is even more alarming than the one she left behind. And once again, Tris must battle to comprehend the complexities of human nature – and of herself – while facing impossible choices about courage, allegiance, sacrifice and love.Four: Readers first encountered Tobias Eaton as Four in Divergent. His voice is an integral part of Allegiant. Readers will find more of this charismatic character's backstory told from his own perspective in Four: A Divergent Collection. When read together, these long narrative pieces illuminate the defining moments in Tobias Eaton's life.
Našli ste chybu?